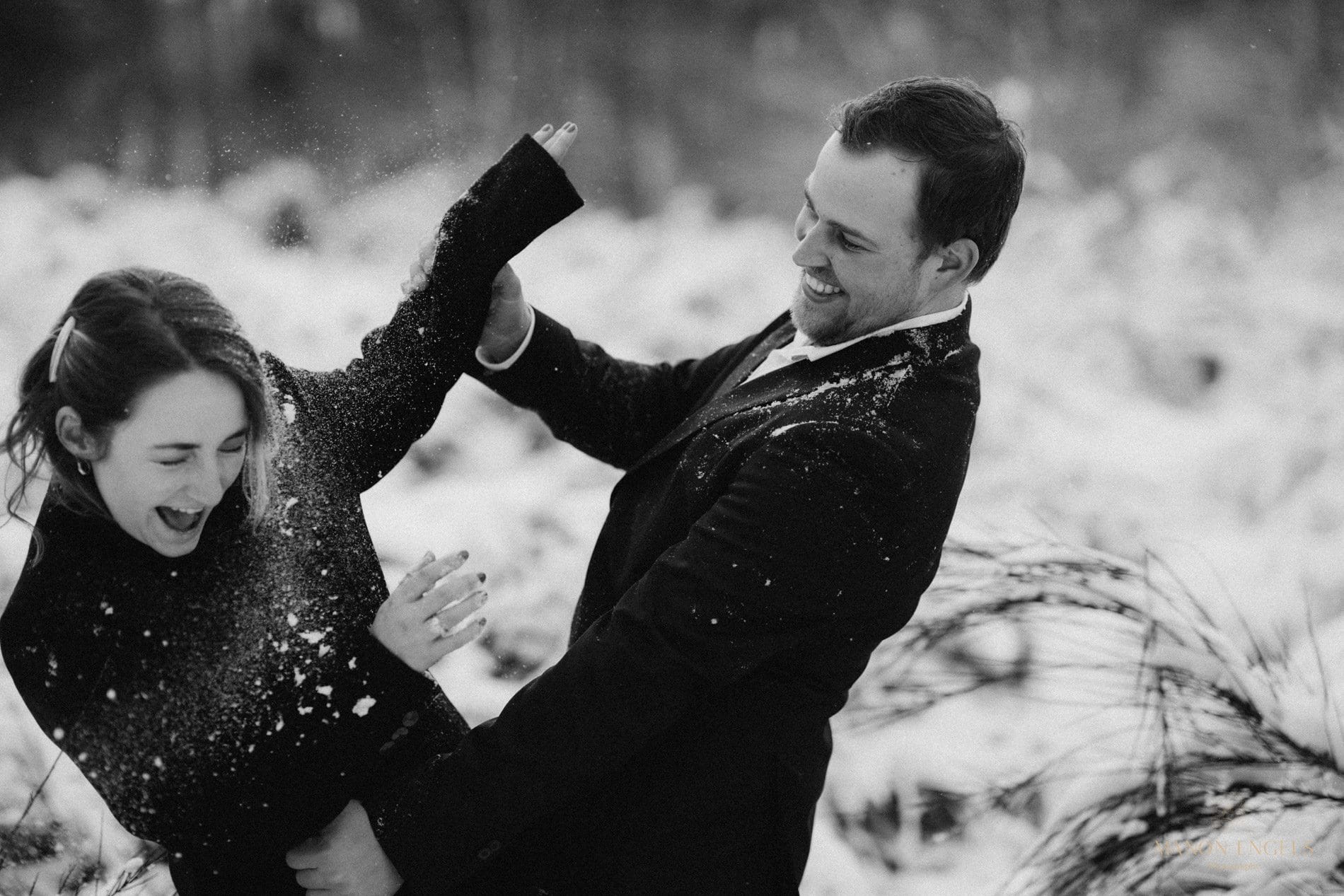 Laura & Michiel
LIEFDE VIEREN IN DE SNEEUW
Of een fotoshoot in de sneeuw hoog op mijn bucketlist stond? Wees maar zeker!
Laura & Michiel trouwden op 8 februari 2021, de dag dat er in Vlaanderen nog eens een dik pak sneeuw viel. En hoe leuk is het wanneer je daar als kersvers getrouwd koppel foto's in kan gaan maken?! 
Net voor ik naar hen reed, stuurde Laura me nog een berichtje met een foto. Daarop zag ik dat ze ook een caravan in hun tuin hadden staan. Enthousiast als ik ben, stuurde ik meteen terug dat ik daar met hen ook kei graag wat foto's wou maken. Momenteel kamperen ze daar namelijk even in, tot hun huis definitief afgewerkt is. En zeg nu zelf, dat zijn toch super fijne beelden om op terug te kijken later. Het feit dat je trouwde op de meest besneeuwde dag van 2021. Dat je toen nog in je tuin kampeerde. Dat zijn de foto's waar je zoveel herinneringen aan zal koesteren. 
Tijdens de shoot hebben we in elk geval flink wat plezier gemaakt. Ik ben een keer of 5 bijna in de sneeuw gevallen en Laura & Michiel hielden een klein sneeuwgevecht. Foto's vol liefde én fun, heerlijk! 
Ben jij ook fan van non-cheesy trouwfoto's waar het plezier vanaf straalt? Stuur me een berichtje en tell me allll about jouw trouwdag binnenkort! Heel graag ga ik ook met jullie het avontuur aan.